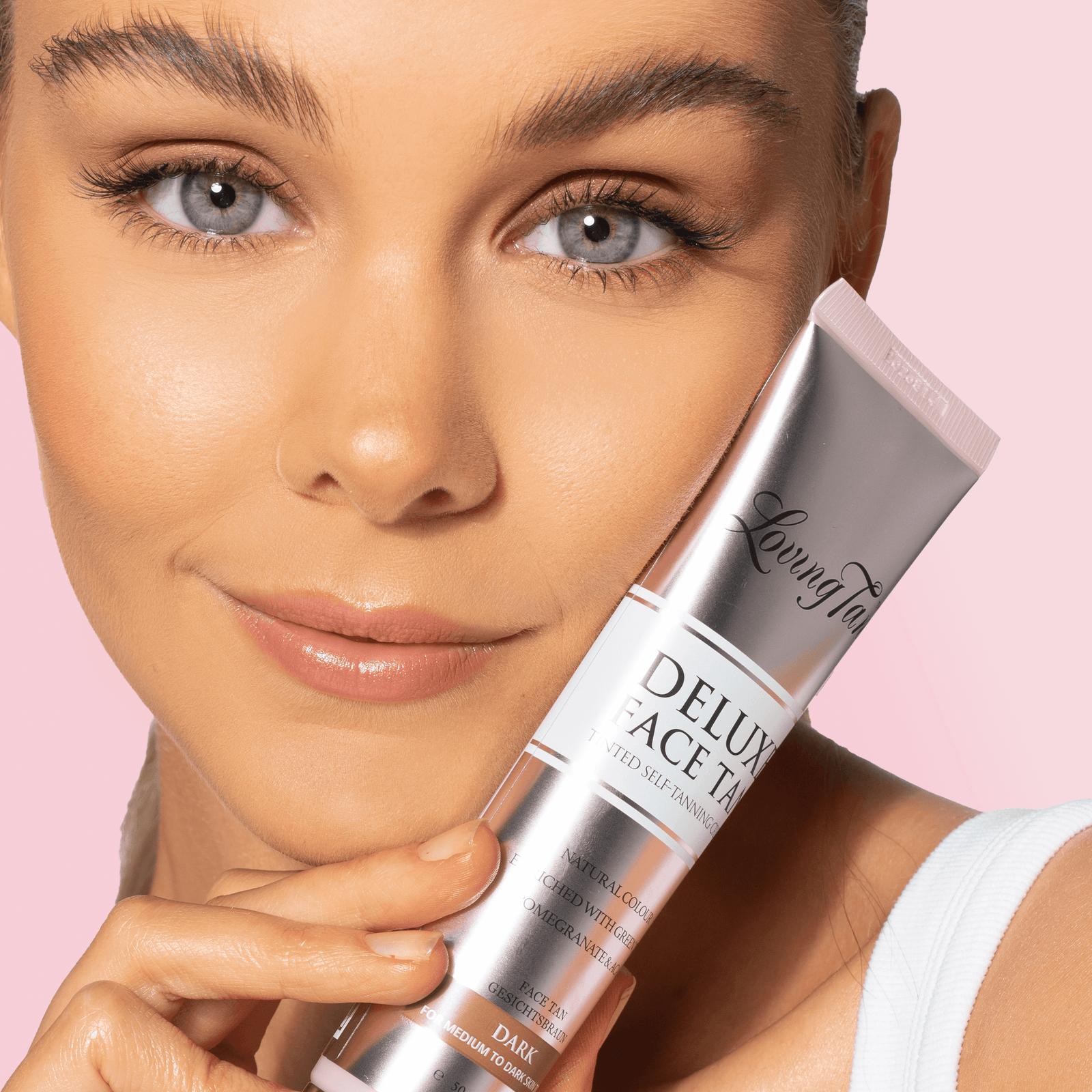 How to tan your face?
When it comes to self-tanning your face, it can seem a bit intimidating at first! Our team of tanning experts have simple steps to help you get that gorgeous glow that makes your skin look younger, fresher and healthier. 
Our product development team has spent years formulating a face tan which has changed the tanning game forever. Loving Tan Deluxe Face Tan has a gentle formulation designed specifically for your face and décolletage. Including a hydrating base infused with antioxidants including aloe vera, green tea, pomegranate and açaí berry, Deluxe Face Tan will enhance your complexion while a natural, luminous tan develops. Here is how you can add it to your tanning routine:
STEP ONE: Exfoliate your face
Preparation is key when it comes to tanning - including your face. Use an exfoliating cleanser or scrub — either physical or chemical is fine. Just be sure to choose one that doesn't contain oil, which can keep the self-tanner from absorbing properly. We recommend doing this 24 hours before you tan. 
Also note that any facial waxing (like eyebrows) is a serious don't. You will want to give your skin at least 24 hours to recover from being waxed before applying your tan to avoid an patchiness or discolouration. 
STEP TWO: Prepare your skin
Residual products like makeup or oils can create a barrier to the skin and stop the tan from developing or develop unevenly - which is so not what you want. This is why is it so important to cleanse and wash your face of all products before tanning. 
STEP THREE: Application
Now for the fun stuff! We recommend tanning your face before tanning your body with the Mousse or Deluxe Gradual Tan. Put some of the Deluxe Face Tan on to your fingertips and apply it to your face and décolletage in small circular motions. Ensure you blend the product up into often-forgotten areas like your hairline, neck and ears for a seamless result. Don't forget to rinse your hands from any remaining tan before moving on to the rest of your tanning routine. 
After you leave the Deluxe Face Tan on for two hours, you're free to rinse it off and reveal your radiant, gorgeous face tan. 
STEP FOUR: Refresh and repeat
It is no question that you wash your face more thoroughly and frequently than the rest of your body - skincare is important!  This just means the tan on your face may fade a little faster than your body. But it's not all bad news, you can maintain your tan by reapplying our Deluxe Face Tan every two to three days to reveal your refreshed and bronzed glow over and over again. 
 
Follow these four simple steps for a flawless face tan. If you're looking for more self-tanning tips, check out our guide on how to get professional-looking results. 
---
Also in Tanning Talk